09 November 2020
-
11 November 2020
Online
FIS / HIS International 2020

The 'live' event took place from Monday 9 November  to Wednesday 11 November but access to conference content is now available for registered delegates to view for one year up until Friday 5 November 2021.  
Registration is open until Tuesday 9 February 2021.
If you have already registered, you should have received an email confirming your login details from events@fitwise.co.uk
Access to the conference for registered delegates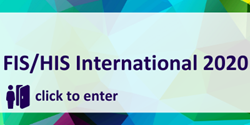 If you have any issues signing in or have not received your login details, please email events@fitwise.co.uk - this inbox will be closely monitored to provide a timely response.  Alternatively you can contact the events team on +44 (0) 1506 292042 (Monday to Friday, 09:00 until 17:00).
Registration is required to access the conference online via the button above.  Once you have completed the registration form you will automatically receive an email with your login details.
The programme and sponsors
Programme
To plan your attendance, access the programme by clicking here.  
When you access the conference, Please take time to visit our
Sponsor forum: Without the support of the sponsors, this event could not take place.
Posters: Please take time to visit the poster area featuring 200+ posters.



After the event
Certificate of attendance
Certificates of attendance will be sent to all delegates who logged in and attended the live event from 9-11 November. These will be sent by 18 November 2020.  The programme has been awarded 15 CPD credits by the Royal College of Pathologists.  Any additional presentations viewed following the live event can be self-accredited via your CPD portfolio.
Survey
A survey will be sent to all delegates after the event. We are keen to gather your feedback and would urge you to complete this to help inform future events.
Get Involved
Follow us on Twitter: @HISConf @HIS_Infection and use #FISHIS20