Dr Katie Prescott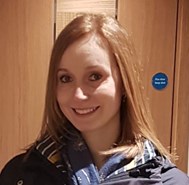 The Graham Ayliffe Training Fellowship (GATF) is a unique opportunity to take a year out of your training to concentrate on and develop essential skills in infection control.  In addition, the GATF allows you to focus on a project of your choice, enabling you to enact change and improve your time management/leadership skills. For those of you thinking about applying for the Fellowship I would definitively recommend that you do. 
I started my GATF during my final year of medical microbiology training, in November 2019. I spend 50% of my time working as a trainee infection control doctor, with a focus on infection control in adult critical care. Thanks to funding from HIS I am also carrying out a research project to look in to the high methicillin sensitive S.aureus bacteremia rates at our Trust. The other 50% of my time is spent working as a trainee editor for the HIS journals – The Journal of Hospital Infection (JHI) and Infection Prevention in Practice (IPIP). This has really increased my understanding of the editorial process and improved my skills in critical appraisal. I love the opportunity this has given me to stay up to date with the current literature in infection control.
The GATF has provided me with a number of amazing opportunities. Locally I have been involved in the day to day delivery of infection control services and outbreak management, including the COVID-19 pandemic. Thanks to HIS I have been offered a funded place on their 'Engineering aspects of infection control' course and an opportunity to deliver and oral presentation at the FIS/HIS International Conference 2020.
This fellowship has been the highlight of my training to date. Not only because of the skills it has allowed me to develop but also because of the new people it has enabled me to meet. Everyone at HIS is very friendly and approachable, and it really is a great team to be a part of.
Dr Chris Lynch
Blowin' in the wind - the experience of a Graham Ayliffe Fellow in Ventilation.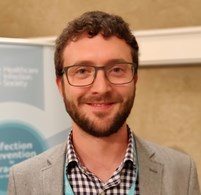 It has certainly been an interesting year to undertake a fellowship in infection prevention and control (IPC)!
For the past year I have been a trainee editor of the Journal of Hospital Infection (JHI), the editorially independent journal of the Healthcare Infection Society, alongside work related to ventilation and surgical site infection at my hospital.
Working on the journal necessitated reading a vast number of scientific papers, improving my knowledge base, and skills in critical appraisal. I learnt how to use the editorial software to invite reviewers, edit papers, and handle manuscripts throughout the production process. I commissioned articles and wrote a number of editorials such as those accompanying the special editions commemorating the WHO hand hygiene day and World Antimicrobial Awareness Week.
Being released from the routine work of a microbiology registrar provided time to get deeply involved in IPC activities, such as investigating unusual clusters of surgical site infection. I have attended surgical site infection reconciliation meetings – helping to ensure the accuracy of data reported to the PHE SSISS. I assisted in developing a business case for the refurbishment of part of the hospital operating theatre estate. Unfortunately the coronavirus pandemic interrupted and curtailed some of the projects that I had hoped to achieve, though it also presented some extraordinary opportunities.
As part of the fellowship I was fortunate to attend the Engineering Aspects of Infection Control course at Eastwood Park, a fascinating week learning about the engineering aspects of ventilation, laundry and decontamination. This provided an indispensable framework for approaching novel IPC challenges presented by the COVID-19 pandemic. The potential shortage of personal protective equipment (PPE) meant that contingencies for decontamination of these items required consideration.
With regards to ventilation I helped develop local guidelines for patients undergoing surgery during the pandemic, prior to the availability of national guidance. This has required frequent updates in response to evolving evidence and national guidance. The experience I gained from implementing this locally led to me being invited as a panel member in the HIS COVID-19 challenges and solutions webinar on managing ventilation in the context of COVID-19. Participating on a panel with renowned national experts was invaluable experience and has informed my ongoing work assisting my hospital to safely resume surgical and dental activity.
My involvement with HIS started at the outset of my microbiology training as a regional representative on the trainee committee and I have since sat on the professional development committee, helping to arrange the popular trainee education programme. Membership of the society has offered me numerous opportunities for education, career development, and to meet global leaders in the field. I would highly recommend participation in the activities of the society to anyone interested in IPC.
The call for applications for a 2021 Graham Ayliffe training fellow is open until the deadline on 1 March 2021. If you have an interest in IPC and are considering an application I would say – go for it! It's a tremendous opportunity.
You can find out more about the Graham Ayliffe Training Fellowship here, including eligibility criteria, the funding available and key dates to keep in mind.
Please note that the opportunity to work with the HIS Journals team is not offered every year. If you are interested in this element of the Fellowship please contact us at admin@his.org.uk to find out more about the next training opportunity with the journals.