40th anniversary of the Healthcare infection Society and the Journal of Hospital Infection
In 2020, a series of events and initiatives took place to celebrate the 40th anniversaries of the Healthcare Infection Society (HIS) and the Journal of Hospital Infection (JHI).
Forty years and counting - Recording our history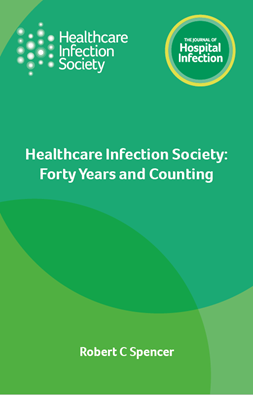 In 1979 a group of consultant medical microbiologists met to discuss the formation of a learned society that would foster the scientific interests of hospital doctors who were interested in nosocomial (or hospital-acquired) infections. The first scientific meeting on the topic of Practical problems in hospital infections took place in January 1980, and was attended by the first four Officers: Graham Ayliffe (Chairman), David C Shanson (General Secretary), Mark Casewell (Meetings Secretary) and Peter D Meers (Honorary Treasurer). In the same year, the first issue of the JHI was published in March, and included articles covering issues still relevant today, such as the role of isolation, surveillance and an outbreak of Pseudomonas aeruginosa.
At its inaugural AGM held Friday 9 January 1981, the Society reported a membership of 264. Since then, membership has grown to over 1000, and the Society has organised multiple conferences and educational training events each year. 
During 2019 and 2020, the Society's Honorary Archivist, Dr Robert C Spencer (Chair of HIS 2001-2007) continued the work of Dr Philip Sanderson (Honorary Archivist 1989-1992) and researched and recorded the past activities of HIS and the JHI. A book documenting the first 40 years entitled Healthcare Infection Society - forty years and counting  was published on 12 February 2021. 
Special celebration event May 2022
The special celebration event planned for 2020 took place on 19 May 2022. You can read more about the event on our blog, and take a look at photos from the event here or by clicking the photo below.  
Thank you to all of those who attended!